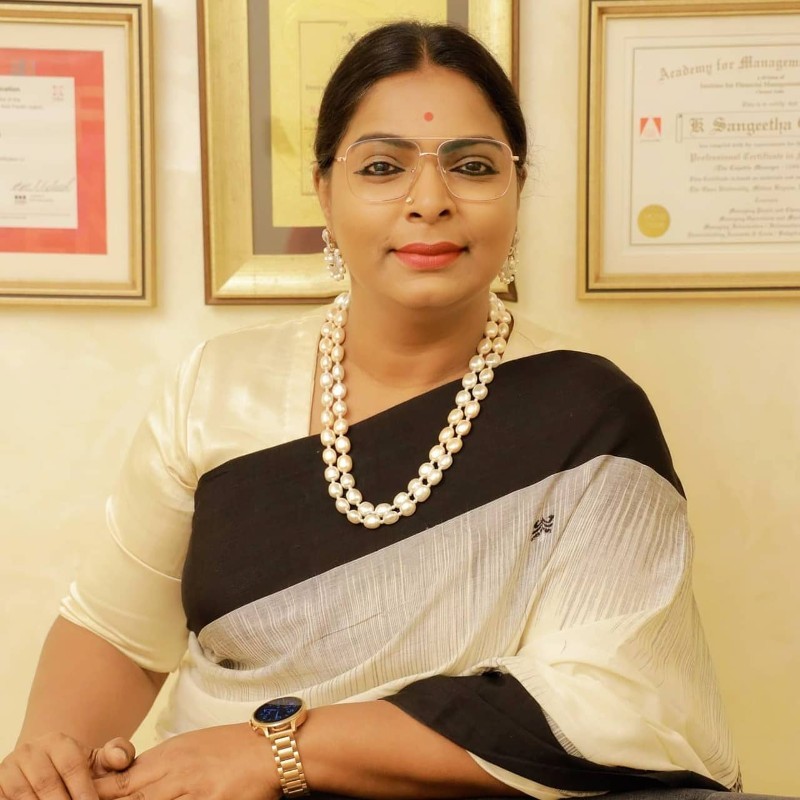 Sangeetha has done her Bachelors in Science and Executive MBA in Human Resources. She has about 20 years of experience and has been in Human Resources and Learning & Development functions in IT, ITES, Banks, FMCG, Pharma companies. She was heading the training function at Motorola.
She is a Certified Executive Coach from Coach You University, Australia affiliated to ICF (International Coach Federation). She is a certified and licensed trainer in Problem Solving & Decision Making Skills from Kepner & Fourie Thinking Dimensions, USA.
She is a NLP & DISC Practioner. She is a certified MBTI professional. She is certified in Ontology (The science of Being ) from Landmark Education (USA).
She is a travel enthusiast and a spiritual seeker, loves to be with people and understand human behaviours. She works towards and believes in making a difference and empower others.
She now works as a Freelance consultant trainer & Executive Coach with various corporates. Her good command over communication & expression, her passion to understand the needs of people and her excellent group facilitation skills makes her training programs a very meaningful experience for the trainees, the client & herself, as a trainer.
As a Trainer Consultant & Executive Coach, she has been closely associated with various organizations like Microsoft, Philips, Cognizant Technologies, Oracle, UBS, Infotech Enterprises, Wipro, CSC,NIFT,ESCI, Osmania Univerity, Symphony Services, Logica CMG, Ness Technologies, GVK Bio, Keane India, Diebold Services, Wellsfargo, Infor solutions, EA Mobile art etc.
She offers her expertise in the areas of – Leadership, Customer Service, , Business Communication, Problem Solving, Managing Time Effectively, Enhancing Personal Productivity, Stress Management, Work-Life Balance for Women, Creativity & Innovation, Assertiveness Skills, Team Building (Inbound & Outbound), Managerial Development programs and many more to name a few.
As an executive coach she assists leaders in optimizing their talents, skills and values to enable their own and others' success. Her coaching is dedicated to having sustainable positive impact on his clients and their businesses.
Her purpose is to help people to move forward, achieve their goals but be congruent with their values. Her approach is based on positive psychology and is solution focused. Her coaching methods are focused on awareness creation and achieving success through sustainable behavior change.
Her coaching challenges the validity and realism of existing goals, and encourages the adoption of new and novel viewpoints, before considering the practical aspects of commitment, planning, and action. She also offers coaching supervision internally in the organizations.